VAN DEN KEERE, Pieter (Petrus KAERIUS)
---

1571-c. 1646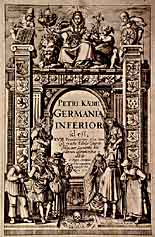 Pieter van den Keere was one of a number of refugees who fled from religious persecution in the Low Countries between the years 1570 and 1 590.

He moved to London in 1584 with his sister who married Jodocus Hondius, also a refugee there, and through Hondius he undoubtedly learned his skills as an engraver and cartographer.

In the course of a long working life he engraved a large number of individual maps for prominent cartographers of the day but he also produced an Atlas of the Netherlands (1617-22) and county maps of the British Isles which have become known as Miniature Speeds, a misnomer which calls for some explanation.

In about 1599 he engraved plates for 44 maps of the English and Welsh counties, the regions of Scotland and the Irish provinces. The English maps were based on Saxton, the Scottish on Ortelius and the Irish on the famous map by Boazio. These maps were not published at once in book form but there is evidence which suggests a date of issue (in Amsterdam) between 1605 and 1610 although at least one authority believes they existed only in proof form until 1617 when Willem Blaeu issued them with a Latin edition of Camden's Britannia.

At this stage two maps were added, one of the British Isles and the other of Yorkshire, the latter derived from Saxton. To confuse things further the title page of this edition is signed 'Guilielmus noster Janssonius', which is the Latinized form of Blaeu's name commonly used up to 1619.

At some time after this the plates came into the possession of Speed's publishers, George Humble, who in 1627, the year in which he published a major edition of Speed's Atlas, also issued the Keere maps as a pocket edition. For these he used the descriptive texts of the larger Speed maps and thereafter they were known as Miniature Speeds.

In fact, of the 63 maps in the Atlas, 40 were from the original van den Keere plates, reworked, 16 were reduced from Speed and 7 were additional. The publication was very popular and there were further re-issues up to 1676.


Click here to see maps published by Kaerius.






Dictionary of map makers An illustrated list of makers of maps, charts and globes from the earliest time of cartography to present.

Email the author your remarks about this article.
Email this article to a friend.
Printer friendly page
© MapHist.com is a swaen.com enterprise.

Top of Page